Wake Forest Baptist Outpatient Imaging has been a trusted provider for medical imaging throughout Winston-Salem and its surrounding communities for many years.
Our partnership with the expert radiologists of Wake Forest Baptist Health allows us to bring the highest quality of care to patients in a comfortable outpatient setting.
All radiologists are board-certified, have specialty training in their specific field of radiology and have extensive experience in diagnostic interpretation.
At our convenient off-campus location, Wake Forest Baptist Imaging provides easy access to top quality care and our ample appointment availability allows you to arrange a visit that works for your schedule. Our free-standing outpatient status allows for an affordable imaging exam whether you are an insured or uninsured patient.
At Wake Forest Baptist Outpatient Imaging, we combine the latest technology and medical experts with the small town comfort and convenience of your neighborhood provider.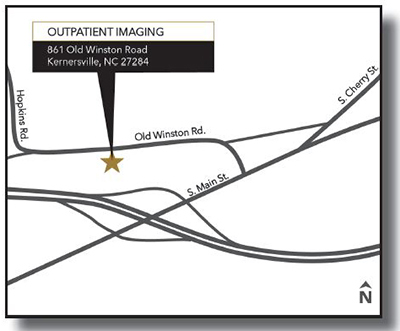 New Imaging Services Available Soon in Kernersville
Wake Forest Baptist Health Outpatient Imaging is excited to expand imaging services to our Kernersville community. In addition to MRI, ultrasound and X-ray, we will offer 3D mammography, CT and bone density services starting October 1.
Appointments can be scheduled now for these new services at our Kernersville location.