Wake Forest Baptist Outpatient Imaging has been a trusted provider for medical imaging throughout Winston-Salem and its surrounding communities for many years.
Our partnership with the expert radiologists of Wake Forest Baptist Health allows us to bring the highest quality of care to patients in a comfortable outpatient setting.
All radiologists are board-certified, have specialty training in their specific field of radiology and have extensive experience in diagnostic interpretation.
At our convenient off-campus location, Wake Forest Baptist Imaging provides easy access to top quality care and our ample appointment availability allows you to arrange a visit that works for your schedule. Our free-standing outpatient status allows for an affordable imaging exam whether you are an insured or uninsured patient.
At Wake Forest Baptist Outpatient Imaging, we combine the latest technology and medical experts with the small town comfort and convenience of your neighborhood provider.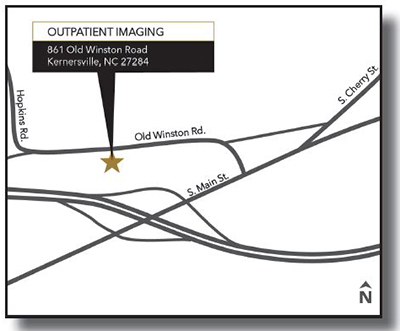 First Anniversary of Kernersville Location!
Help us celebrate the one year anniversary of our second center in Kernersville. Wake Forest Baptist Outpatient Imaging opened our second imaging center in Kernersville in February 2019.
Located at 861 Old Winston Road, we offer services of MRI, Ultra Sound & X-ray. We offer quick access to our patients in the Guilford and Forsyth Counties. In July, we will be adding additional services including CT, Mammograms and Bone Density screenings. Now that the Salem Parkway is open, this location is only 10.5 miles from Winston-Salem with easy access to other areas of the triad.