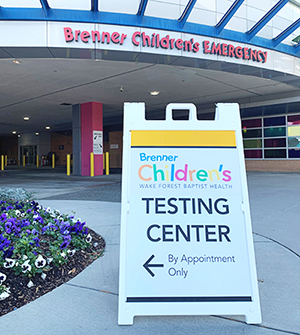 COVID-19 rapid testing is now available for children and young adults up to 25 years of age at our new drive-up testing center located just outside of the Brenner Children's Emergency Department.
The testing center has designated parking. Please see the valet parking attendant or signs directing you to the designated parking area. Tests are done while remaining in your vehicle.
Testing is open to the public and established patients, both through appointment only. Hours of operation are Monday - Friday, 8 am - 4 pm. Please be aware that this new service is for COVID-19 testing, not vaccination.
If Your Child Has Symptoms
Those 25 years of age and younger must first visit a health care provider who will order the test and schedule an appointment at the drive-up testing center.
If Your Child Does Not Have Symptoms
Those 25 years of age and younger without symptoms should make an appointment in advance by calling 336-702-8054.