Our Process is Simple, Smart and Strategic
We begin by listening – to business leaders and employees. We seek to understand each client's business, goals, culture, workforce demographics and work environment. Next, we do a thorough analysis of health care and pharmacy claims, as well as the health and risk stratification of employees and beneficiaries on the health plan. We then use this information to identify the services and delivery model that are right for each individual client. Services are assessed constantly and new innovative solutions are developed for clients when needed.
We Care for the WHOLE Person
Our approach is integrative and relationship-centered. We care for the whole person, offering individualized intervention that is effective, practical and convenient. We meet with employees at work or in our clinics, and help them in ways that have a meaningful impact on their health and well being. Our Executive Health physicians, nurse health coaches, health educators and other providers focus on lifestyle changes, monitoring and maintenance for chronic conditions and engagement with available resources, not just treating symptoms.
Better Health. Better Results.
All BestHealth For Business services are designed to ensure employees will:
WORK WELL because they are sick less often and miss less work by getting the care, education, screening and prevention they need without leaving their place of work. That means less absenteeism, more productivity and increased employee satisfaction.
LIVE WELL with fewer chronic health problems as a result of engaging in relationship-based care and health coaching that leads to positive behavior changes. That means earlier intervention, fewer serious illnesses and better management of chronic conditions - which leads to lower health care costs.
BE WELL, so their lives are enriched by being happier and healthier.
Healthier employees lead to a healthier bottom line.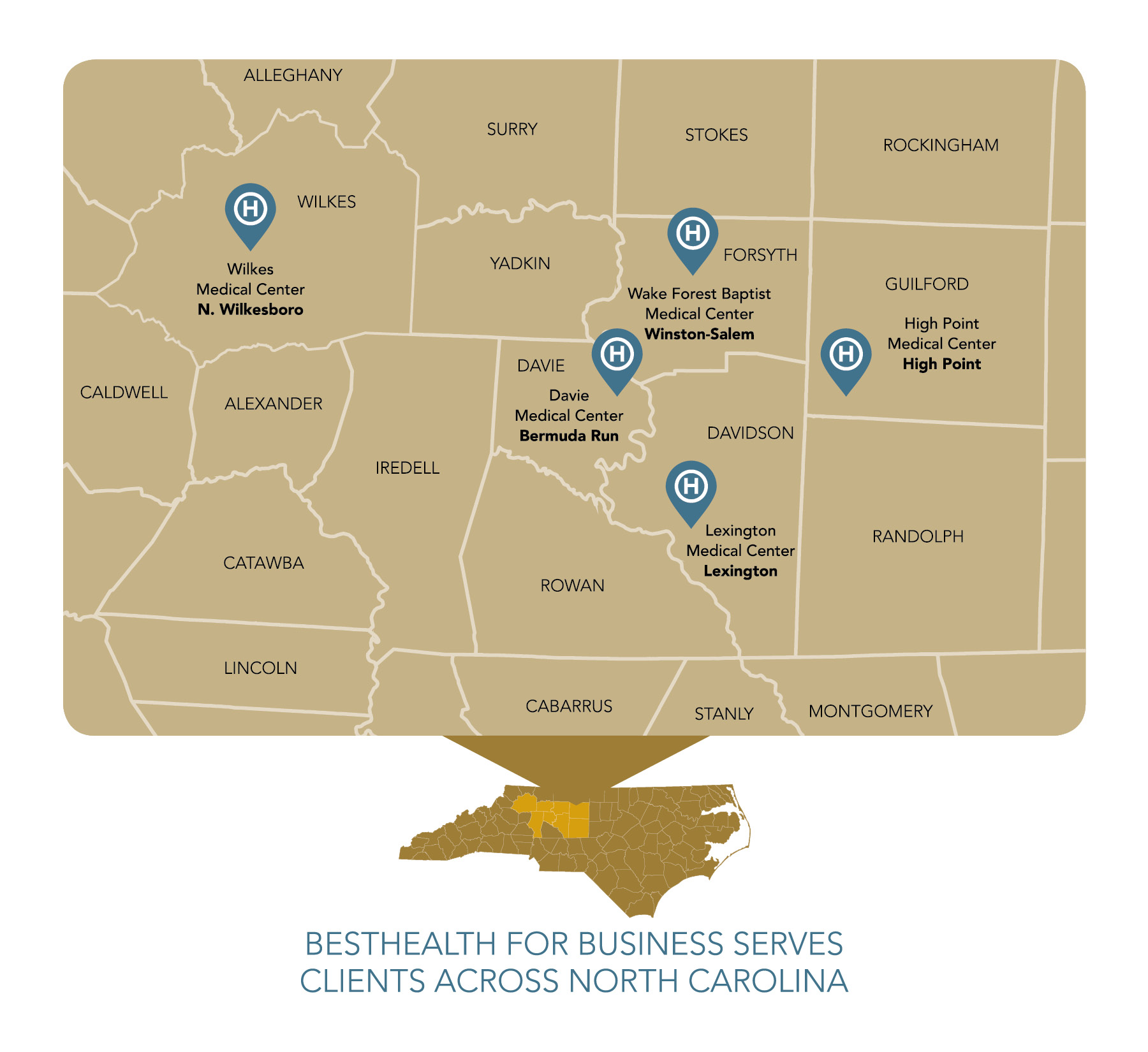 Let's Talk
When companies work with BestHealth for Business of Wake Forest Baptist Health, it is a true partnership that benefits both the business and the employees. Let's get together and explore how we can help you and your employees Work Well, Live Well, and Be Well.

For more information on any of these BestHealth For Business programs, please contact us at 336-713-4696 or ForBusiness@wakehealth.edu.