Congratulations! You are embarking on one of life's most precious journeys - motherhood.

Wake Forest Baptist Health Weight Management Center is here to assist you every step of the way. Our multidisciplinary team will support you in making your pregnancy as healthy as possible and helping you gain knowledge to make positive, lasting changes to your health that may benefit you and your baby.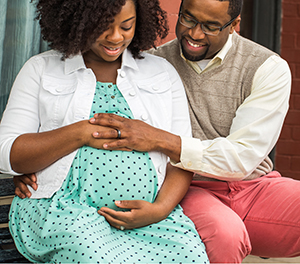 Healthy Futures is a personalized program, designed to help you manage your weight during and after your pregnancy. Every pregnancy is unique. Based on your specific needs, our team provides:
Nutrition counseling
Behavioral support
Exercise training
The Wake Forest Baptist Health team brings years of training and expertise in weight management to the new Healthy Futures program. We are committed to:
Promoting healthful nutritional choices during pregnancy and after baby arrives
Helping you engage in regular exercises deemed safe for pregnancy
Providing behavioral support for lifestyle change and coping with the changes of pregnancy and motherhood
Promoting breastfeeding whenever possible
Services
A medical provider meets with patients at the beginning and end of the program. Other key components of the program include one-on-one visits with our specialized team.
Behavorists
Five face-to-face visits during pregnancy, and one postpartum video visit
Will cover a variety of topics including: healthy coping skills, changing body image, and support systems
Exercise Specialists
Three visits during pregnancy, one per trimester
Will cover general do's and don'ts of exercise in pregnancy including tailored recommendations and goal setting
Registered Dietitians
Six visits during pregnancy and one postpartum video visit
Will cover topics including: vitamin and mineral requirements in pregnancy, morning sickness cravings, and personalized dietary advice and recommendations
You may qualify for the Healthy Futures program if:
You are in your first trimester of pregnancy, between 8 and 15 weeks gestation
You had a body mass index (BMI) of at least 30 kg/m2 at the time you became pregnant
Your obstetrical provider agrees that you may benefit from the program and is willing to provide a referral - Obstetrical provider referral form