If your doctor has talked to you about losing weight to improve chances for conception and for a healthier pregnancy, the Wake Forest Baptist Health Weight Management Center is here to help.
The prenatal program will help you lose weight to improve fertility and help you have a safer pregnancy and healthier baby.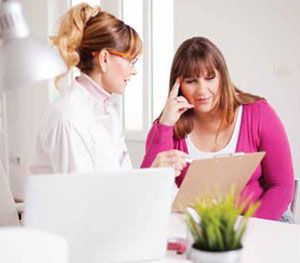 Physicians have found that your body mass index (BMI) can have a profound effect on fertility. Treatments are more effective when your BMI is below 40. Losing weight will not only help you become pregnant, but it can also reduce the risk of gestational diabetes and high blood pressure.
Additionally, cesarean-birth rates are lower, there are fewer complications, and the delivery is easier.
Proper exercise and diet are important for maintaining good health and an ideal weight.
Your team of medical weight loss experts in obesity medicine, nutrition, exercise and behavior modification promises to help create an individualized program for you to meet your goals and lose weight safely.
Our Goals
Compassionate care
Weight loss
Support through conception and beyond
Your program will start with a weight loss plan designed to help you lose at least 10 percent of your weight safely and quickly.
A meal replacement strategy using OPTIFAST products along with healthy, regular meals, exercise and visits with behaviorists will be supervised by your medical provider.
Once you conceive, we will transition your plan to provide supportive nutrition care through the first trimester.
At the beginning of the second trimester, we will adjust your plan to support healthy weight gain as recommended by your obstetrician. You will continue to meet regularly with your treatment team until delivery.
At four to six weeks postpartum, you will receive an additional behaviorist visit and registered dietitian visit.
What's Included
When you select the Weight Management Center to help you with your journey, you will receive compassionate care from your team.
Support
Up to 52 weeks of weight loss treatment
Program materials and resources
Lifetime membership in support groups
In-person or virtual "On Track" monitoring system, which includes a wireless scale, allows your team to monitor your progress remotely
Medical
Up to 12 visits with a medical provider
Up to 6 visits with a nurse
Nutrition
10 visits with a registered dietitian
Exercise
Six consults with an exercise physiologist
(10) 30-minute personal training sessions
Behavior
8 visits with a health behaviorist
Comprehensive Care
The goal of all of us at the Weight Management Center is to help you lose weight so your journey through pregnancy will be a healthy and happy one. Our team of experts is here to support you from conception through delivery and beyond.
Our obesity medicine specialists include medical providers, registered dietitians, behaviorists and exercise specialists. Each one works with you individually as part of a comprehensive program to ensure you reach your goals.