Sometimes it's literally a lemonade stand. Other times, it may be a golf tournament or asking customers if they would like to donate a couple of dollars and have a small sign posted in the store window that says "I support the children at Brenner."
Regardless of size or scope, fundraising events organized by members of the community have a direct, positive impact on the mission of Wake Forest Baptist Health.
"These funds are put to immediate use, and while the dollar amounts may not be huge, the significance of our community sharing in the Wake Forest Baptist Health mission and learning all the ways they can have an impact is huge," says Lisa Marshall, vice president of Philanthropy and Alumni Relations and chief philanthropy officer at Wake Forest Baptist Health.
Every year, generous individuals, businesses and organizations hold bake sales, dinners, golf tournaments and other events on behalf of Brenner Children's, the Comprehensive Cancer Center or other parts of Wake Forest Baptist Health. By devoting their time and energy, they become ambassadors and representatives in the community.
Following are several successful fundraising events from the past year that highlight the difference community members make. This is by no means a complete list of all the community fundraisers, but these are among the many events that typify the kind of support that makes a big difference for our patients' lives and their health.
---
WSPD Officers Join to Support Colleague, Sticht Center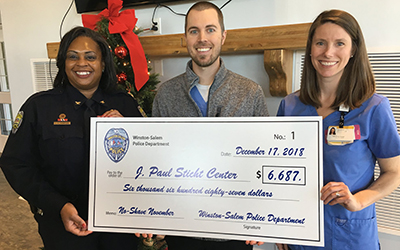 Donor: Winston-Salem Police Department
Event: For a $50 donation, male officers could wear a closely shaven beard and female officers could wear clear nail polish
Beneficiary: Sticht Center for Aging and Rehabilitation, which is the first facility in the world to incorporate geriatric acute care, transitional care, psychiatry, rehabilitation and clinical research under one roof.
Date: October and November 2018
Donation: $6,687
Winston-Salem police officer Mark VanBuren encouraged his fellow male officers to grow a beard and his fellow female officers to wear clear nail polish, and in exchange, they would donate money to support the Sticht Center. Facial hair and polished nails normally are not allowed, and police department leadership agreed to suspend the rules to support the fundraising effort. VanBuren spent time at the Sticht Center recovering from serious injuries sustained in a traffic accident while on duty in 2016.
The funds are helping to provide canes, rolling walkers, shower chairs, wheelchairs and other items that make it easier for recovering Sticht Center patients, especially those in financial need, to return home.
---
Burn Unit Benefits from Sprinkler Association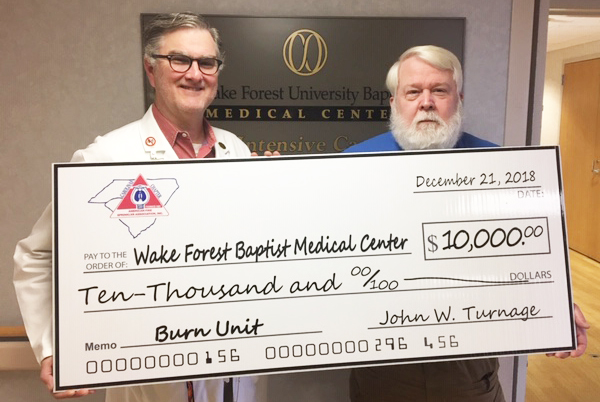 Donor: American Fire Sprinkler Association Inc., Carolinas Chapter
Event: 24th Annual Golf Tournament
Beneficiary: Wake Forest Baptist Health Burn Center. The Burn Center and its multi-disciplinary team provide optimal patient care from the time of injury through rehabilitation.
Date: Oct. 10, 2018
Donation: $10,000 in 2018, $65,000 to date
The Carolinas Chapter of AFSA has directed proceeds from its annual golf tournament to the Burn Unit for several years and will do so again this year. The 2019 event is scheduled for Oct. 10 at Colonial Country Club in Thomasville, N.C.
---
A Haircut and a Donation for the NICU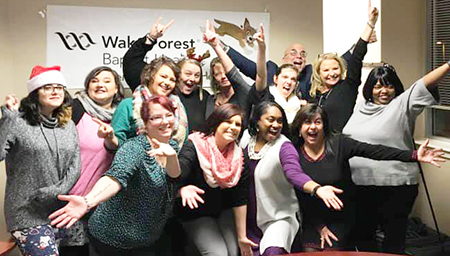 Donor: Great Clips
Event: 2018 WMAG Brenner Children's Radiothon
Beneficiary: Campaign for a New Neonatal Intensive Care Unit (NICU). The campaign is raising $25 million to build a new NICU with 51 private patient rooms—to give every infant and family who comes through our NICU the best chance for the best life possible.
Date: October 2018
Donation: $55,693
Thirty-six Great Clips locations have supported the annual WMAG Brenner Children's Radiothon for the past several years. Locations donate a percentage of haircut sales and offer customers a coupon for discounts on a future haircut in exchange for a donation to the campaign for a new Neonatal Intensive Care Unit at Brenner Children's.
---
A Good Deed for a Friend in Need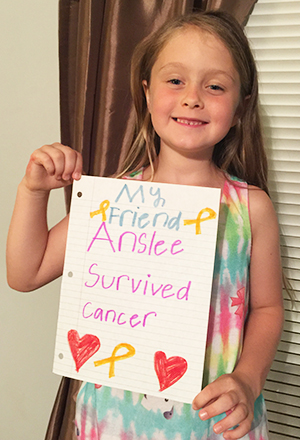 Donor: Brooklyn Hutchins
Event: Baked Goods and Lemonade Sale
Beneficiary: Pediatric Hematology/Oncology. The Brenner Children's pediatric hematology and oncology program is the leading cancer and blood disorder center in the region. Our specially trained pediatric hematologists, oncologists, radiation oncologists, surgeons, physician assistants, nurse practitioners, psychologists, social workers, chaplains, diagnostic radiologists and other health care professionals work together to provide exceptional and comprehensive care for pediatric patients of all ages.
Date: July 2018
Donation: $2,000
Brooklyn's good friend Anslee was diagnosed with cancer and treated at Brenner Children's. In honor of Anslee and other children like her who have received treatment at Brenner Children's, Brooklyn held a community baked goods and lemonade sale.
---
Birthday Inspires Employee Fundraiser
Donor: Jessica Powell
Event: Birthday Fundraiser
Beneficiary: Campaign for a New NICU
Date: February 2019
Donation: $2,200
For her birthday, Wake Forest Baptist Health employee Jessica Powell decided to hold a Text2give fundraiser to raise money for Brenner Children's and the campaign for a new neonatal intensive care unit, which will provide 50 private rooms for babies and their families. Powell and her family matched up to $1,000 in donations.
The cause was particularly important to the family because their personal experience caused them to understand how important a healing environment is for the baby and their family.
---
Deacon TDs Add Up for the NICU Campaign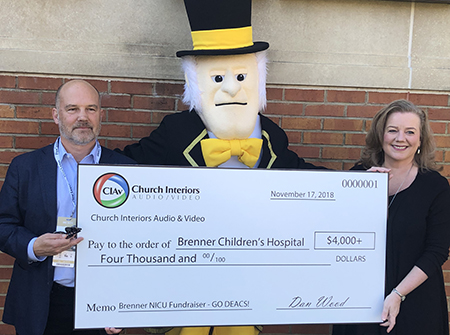 Donor: Church Interiors Audio & Visual
Event: Scoring with a Purpose
Beneficiary: Campaign for a New NICU
Date: Wake Forest University's 2018 football season
Donation: $4,900
For every touchdown the Demon Deacons scored during the 2018 season, Church Interiors Audio & Visual donated $100 toward the campaign for a new neonatal intensive care unit at Brenner Children's. At the last home game of the season, Dan Wood with Church Interiors presented Dr. Cherrie Welch, medical director of the NICU, with the check.
---
Camaro Club Revs Up Support for Brenner Children's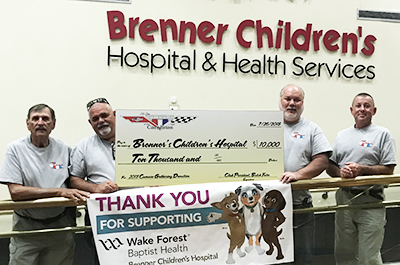 Donor: 5th Generation Camaros of the Carolinas Club
Event: North Carolina Camaro Gathering
Beneficiary: Brenner Children's Hospital Fund
Date: June 1-3, 2018
Donation: $10,000
Each year, aficionados of Chevrolet Camaros gather to celebrate their passion for their favorite muscle car. Organizers of the annual national event, which is open to all generations of Camaros, direct entry fees and donations to benefit Brenner Children's. The 2019 event, scheduled for May 30-June 2 in Clemmons, N.C., will again support Brenner Children's.