New President to Lead Friends of Brenner Children's
Roughly 15 years after joining the Friends of Brenner Children's, Kristen Zaks has taken on the role of president of the volunteer group that spearheads community support for the region's leading children's hospital.
"I really enjoy the people who are involved with the Friends, and I love the commitment to helping families who are served by the hospital," said Zaks, who succeeds Stacy Petronzio as president after serving as vice president for the past year.
She said her goals as president include expanding both the group's membership base and the support it provides to Brenner. The Friends has formed a new Community Outreach Committee to explore new ways to make a difference for families.
"Brenner serves such a vital role," she said. "Anything we can do to support it is worth it."
Zaks and her husband have two children, Lily, 12, and Charlie, 10. She said the family's experience with care at Brenner has been limited—virus-related stomach pain that Lily endured—but memorable.
"We took Lily to the Brenner emergency room one night thinking we would be home in a few hours, but the doctor thought it was best to keep her overnight," Zaks said. "They took us to a room and had this sweet handmade pillowcase and a special stuffed animal just for her. The doctors and nurses were the best, and we just felt like the care we received was exceptional.
"It makes you realize how lucky we are to have Brenner here in our community."
---
Food Drive Supports Downtown Health Plaza Patients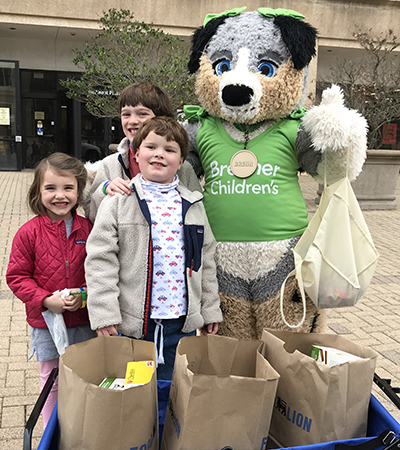 An emergency food drive led by the Friends of Brenner Children's collected 60 bags of food and $650 in donations for the pediatric food bank at the Downtown Health Plaza (DHP).
The effort, held in February, raised enough food to feed one family for 60 weeks. DHP is a full-service outpatient medical clinic subsidized by Wake Forest Baptist Health. It serves many of Forsyth County's uninsured and underinsured residents.