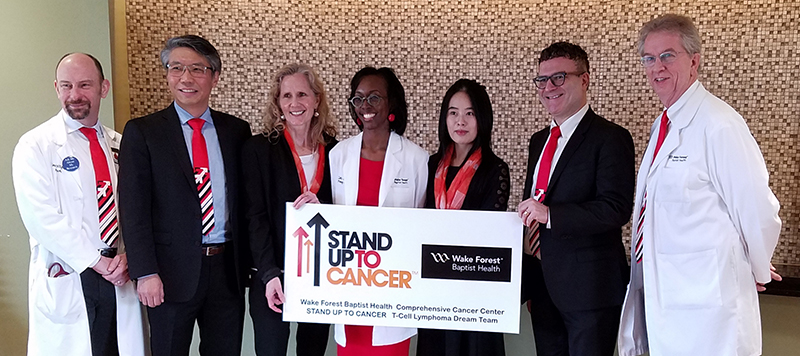 Comprehensive Cancer Center Dream Team members (from left): Dr. Timothy Pardee; Dr. Wei Zhang; Elizabeth Forbes, lab manager; Dr. Zanetta Lamar; Qianqian Song, research fellow; Dr. Boris Pasche; and Dr. Bayard Powell
Four researchers from Wake Forest Baptist Health's Comprehensive Cancer Center have been named to a "Dream Team" of top scientists from across America tasked with finding therapies for T-cell lymphoma, a rare cancer of the blood and immune system.
The American Association for Cancer Research (AACR) announced the team in January and awarded $8 million to fund its work.
The team includes 23 physicians and researchers from Wake Forest Baptist, Baylor College of Medicine, the University of North Carolina at Chapel Hill and the University of Texas MD Anderson Cancer Center. It also includes a survivor of NK-T cell lymphoma.
Representing the Comprehensive Cancer Center on the team are:
Bayard Powell, MD, Dream Team principal
Timothy S. Pardee, MD, PhD, investigator
Wei Zhang, PhD, the Hanes and Willis Professor in Cancer Research, investigator
Zanetta S. Lamar, MD, young investigator
"The awarding of this grant to our investigators recognizes their exceptional talent and dedication," said Boris Pasche, MD, PhD, chair of cancer biology and director of Wake Forest Baptist's Comprehensive Cancer Center. He said the award will focus on cutting-edge therapies for patients that can be put into use quickly.
The team will use cells carrying molecules known as chimeric antigen receptors (CARs) to trigger the immune system to both attack and destroy cancerous cells. The goal will be to develop CAR-based therapeutics where the patient's own immune system can expand into armies of cancer-fighting cells.
T-cell lymphomas make up less than 15 percent of non-Hodgkin lymphomas in the United States, according to the American Cancer Society, and they tend to be difficult to treat because they arise in the cells that are supposed to fight disease, not cause it.
"We must develop better treatments for those with T-cell lymphomas," said Lamar, assistant professor of hematology and oncology. "Although treatments are available, many patients who achieve remission will experience a relapse. In addition, there is no consensus for treatment for those patients with recurrent or difficult-to-treat disease."
Cancer immunotherapy—enabling the body's immune system to detect and destroy cancer cells—has had a tremendous impact on a wide range of cancers, including B-cell lymphomas. However, it has not yet been effective in lymphomas that involve T cells.
Because T cells are essential to the body's immune response, the biggest challenge is finding a therapy that can attack T cells that are cancerous without harming normal T cells.
"The Dream Team's approach could bring a highly effective new treatment to what is now a relatively intractable disease," said Phillip A. Sharp, PhD, the Nobel Prize-winning molecular biologist from Massachusetts Institute of Technology who serves as chair of the Scientific Advisory Committee for Stand Up To Cancer, which collaborated with AACR to form the team.