By Nancy Smith, RN, BSN, Assistant Nurse Manager for the Pediatric Hematology/Oncology Clinic at Brenner Children's Hospital
I'm a pediatric hematology and oncology nurse at Brenner Children's Hospital. I've been working with childhood cancer patients since before Brenner became Brenner. In May of 1975, I started my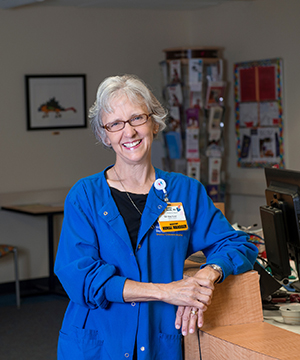 career as a pediatric night nurse at what was then NC Baptist Hospital. By March of 1976, I started working with Dr. Richard Patterson, the only pediatric oncologist at the hospital at that time. The rest was history. I've been working with this very special patient population for over 40 years. During this time, I have had the privilege of seeing many advancements at Brenner, and in the broader world of medicine, when it comes to treating these children.
The Early Years
My ties to Brenner Children's Hospital and Wake Forest Baptist Health run deep. In fact, my story begins here—it's where I was born. (The hospital still delivered babies at that time.) Many members of my family started life here. One of our fun family facts is that my uncle was the first baby ever to be born at NC Baptist Hospital.
Sadly, we have also said goodbye to family members here. My brother died of meningococcemia at the hospital when he was 2 ½ years old. I was too young to remember it, but his death had a profound effect on my future career. I spent many of my childhood years thinking about his life and death, and I became fascinated with the idea of helping and fixing people.
A desire for nursing that began in my childhood remained strong throughout my teen years. There was never anything else I desired to be but a nurse. And I also always knew I wanted to work with children.
After college, my first job was as a night nurse in the pediatric ward at Baptist. Back then it was so much different than what we now have at Brenner. All of the kids, from babies to teenagers, were grouped together on one floor, whether they had cancer or were just getting a tonsillectomy.
One day I got a message that Dr. Patterson wanted to speak with me. It's funny to me now to think that I was initially worried I was in trouble. In reality, he wanted to ask me to join him in working with pediatric cancer patients in an outpatient clinic, in addition to the inpatient work I was doing. That's where it all began for me.
Progress Over Time
In the four decades I've been working with pediatric cancer patients, I've seen huge changes in medicine and in our hospital:
Cure rates: The most significant and positive change I've witnessed is a vast improvement in cure rates for childhood cancers. When I started in the '70s, they were only just beginning to have children who were surviving leukemia beyond a year. Over time, new medicines were introduced that kept them in remission longer and allowed them to live longer. We're still using many of those same medicines today, but with additional modern medicines through which we're seeing even better cure rates. The treatments now are more intense, but the outcomes are significantly better.
Nausea medicines: When I first started out, there weren't many good nausea medications for the children who were undergoing chemotherapy. Now, there are many for us to choose from, and the children do much better with them and are able to tolerate the chemo better as well.
Central Lines: During my career, central lines were created. Broviac-Hickmans (external venous lines) and port-a-caths (under the skin central lines) enable the children to take chemotherapy intravenously instead of having to have an IV in the hand or arm every day.
Numbing medicines: We now have numbing cream for when the kids have to get a shot or we have to access their port. We can put cream on their skin (for one to four hours) so that when we need to access an area with a needle and the child doesn't even feel it; it takes the pain away. Amazing!
A unit dedicated to hematology and oncology: While those are advancements throughout the field of medicine, we have had many positive changes here at Brenner, too. The days of all the patients being on one floor are long gone. We now have a unit specific to pediatric hematology and cancer patients. In this unit, all of our nurses are certified in administering chemo.
Multi-disciplinary teams and pediatric specialists: At Brenner, we have amazingly talented specialists who work together to meet a child's specific needs. We have psychologists, social workers, child life specialists, nutritionists, Arts for Life staff, doctors of all kinds and many more children's specialists. Our pediatric surgery team is world class—I could go on and on about them. We also have a sedation team that specializes in helping pediatric patients have difficult procedures with the assistance of anesthesia.
Onward & Upward
I can't say enough great things about Brenner. From the nursing staff to the physicians, our people are top notch and they love kids. I also love that our hospital is so focused on patient- and family-centered care. When a child's sick, it's not just the child we take care of; it's the whole family. We know most everyone in their family; we even know about their pets.
I love this job, and my heart is so full with the love I have for these kids and receive from them. They are the bravest people I have ever known. It's amazing to me how strong and what brave fighters they are.
I plan to keep serving these children at Brenner for as long as I can. This is where my heart is. Then, one day when it's time, I will turn it over to the great nurses with whom I work. They are truly amazing, just like our entire team, and they all will continue to love and care for the patients and families, so … the cycle of love continues.