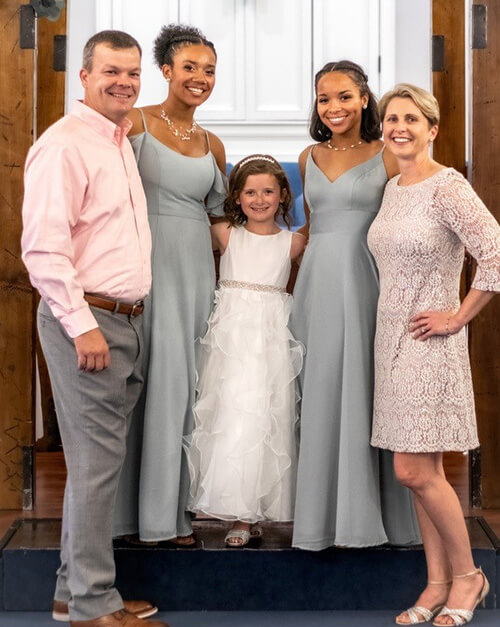 Inman started work at Atrium Health Wake Forest Baptist as a nursing extern in 2004 and has been a CNA, staff nurse, nurse educator, safety coach coordinator and now Patient Safety Program Director. In this role, she collaborates with teammates to support and sustain a culture of safety and high reliability. This is to improve patient outcomes and teammate experiences with a goal of Zero Harm, for All.
What does Women's History Month mean to you?
Anyone who knows me knows that I am a celebrator. There is always someone doing something great that should be recognized. Women's History Month is a time to celebrate the amazing women who have broken barriers and paved the way for all people to live life to the fullest. Being raised by generations of strong women, it is important to me to raise my daughters to be confident, proud and ready to break down their own barriers to achieve their dreams.
Women's History Month celebrates and reflects on the contributions of women to United States history. Who is a leader that inspires you and why?
I have two. Carolyn Roberts was my first leader as a new graduate nurse. She is kind and compassionate and works tirelessly to ensure all her nurses have everything they need to be successful. Several years ago, she went out on a limb for me by moving me to an educator position. I wasn't sure I was quite ready, but I knew with her support I wouldn't fail. That move changed my entire career path and led me to a leadership role that fills me with excitement and allows me to help more patients and teammates than ever before. She taught me that, as a leader, if you listen to your gut and take care of your people, everything will work out.
Dr. Andrea Fernandez is also one of the most incredible women I have ever met. She is smart, strong, passionate and full of life. She works selflessly to advocate for patients and teammates and does it with complete grace. There is no problem too big or too small for her to get involved. As a leader, I am inspired by the way she shows gratitude and appreciation. I can't count how many texts, emails and cards she has sent saying "thank you" and "great job." In the middle of saving the world, she's a real person raising incredible kids with a great husband and always takes time to check on me and my family. I am so thankful to have her in my corner as a leader and a role model.
At Atrium Health Wake Forest Baptist, we create a space where ALL Belong. How do you see Wake Forest Baptist fostering an environment where ALL Belong?
There are endless opportunities here. There is so much variety in roles, schedules, locations … everyone can find their perfect fit. Our leadership team has worked hard to eliminate power distance and ensures everyone has a voice by providing platforms not only to share concerns and ideas but also to gather to celebrate similarities and differences. Our teammates recognize that our patients are our friends, neighbors and family, and go the extra mile to ensure they receive top-notch care and have access to the resources they need for positive outcomes. I can't imagine being anywhere else.