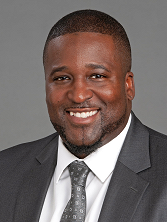 Anthony Cunningham graduated from Phillips Academy (Andover, MA) then went on to Hamilton College (Clinton, NY) to receive his BA in Music (History & Performance). He received his MBA from the Carroll School of Management (Chestnut Hill, MA – Boston College).
Anthony ascended quickly through the ranks of Revenue Cycle focused roles within healthcare operations as well as Management Consulting supporting multiple healthcare settings including, academic medical centers, community hospitals, reference labs, and physician practice settings. A representation of these organizations include Joslin Diabetes Center – Boston, MA, Deloitte & Touche', Health Alliance – Leominster, MA, Deloitte Consulting, Genzyme – Cambridge, MA, Steward HealthCare – Boston, MA, Partners HealthCare – Boston, MA, Northeast Georgia Health System - Gainesville, GA. As part of the many roles in Management Consulting, he was responsible for leading large-scale revenue cycle redesigns & transformations, implementing patient management & billing systems, aligning processes and technology, providing interim Executive Leadership as well as building and managing shared services operations for both Central Business Offices as well as Financial Clearance Centers.
After more than 20 years in Revenue Cycle leadership roles, Anthony joined Wake Forest Baptist Health in August 2018 as the Associate Vice President of Revenue Cycle Operations responsible for the leadership of Patient Access (front end) and Patient Financial Services operations (back-end). In November 2018, he was asked to assume the role of Interim Vice President of Patient Financial Services (formerly Corporate Revenue Cycle). During his time here, he has been focused on the Helping Hand Initiative (Uncompensated Care), infusing analytics into operations, digitizing Revenue Cycle functions, improving vendor performance, and assisted in creating a revamped governance structure for Revenue Cycle and Access.
In addition to being involved in multiple healthcare professional organizations over the years where he has been a featured speaker on Denial Prevention, Patient Experience, and Self Pay optimization, Anthony also has deep roots in Diversity & Inclusion programs as he led D&I within Deloitte Consulting's Boston office for 5 years in addition to his primary role as a management consultant.