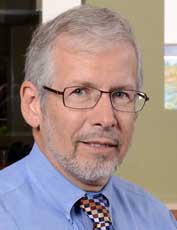 Appointed in July 2012, Gunderson oversees spiritual care services for patients, families and Medical Center staff.
In his position, Gunderson supervises six departments: CareNet Counseling, Chaplaincy and Clinical Ministries (including the Clinical Pastoral Education program), FaithHealth Education, Community Engagement, the Center for Congregational Health and FaithHealthNC.
Gunderson also nurtures the relationship with more than 4,300 Baptist congregations throughout North Carolina and other large networks of our patients' faith groups.
A recognized expert in congregations and health, Gunderson has previously served as senior vice president of the Faith and Health Division of Methodist Le Bonheur Healthcare in Memphis, Tennessee. In his 7 years there, he developed a new model of congregational health that became widely known as the Memphis Model.
Gunderson became involved in public health through his work with former President Jimmy Carter in Atlanta when he directed the Interfaith Health Program at The Carter Center for a decade.
The Interfaith Health Program moved from The Carter Center to the Rollins School of Public Health at Emory University, where Gunderson became a research assistant professor in International Health. He also served as a visiting professor in Family Medicine and Community Health at the University of Cape Town, South Africa.
Gunderson has worked extensively with the White House Office of Faith-Based and Neighborhood Partnerships. He serves as secretary for Stakeholder Health, a group of 39 health systems committed to more effective engagement with the poor in their communities.
He brought the Leading Causes of Life Initiative to Wake Forest Baptist, an international and interdisciplinary group of Fellows working to build an intellectual foundation beyond the purely medical paradigm. He was lead author for a recent paper based on this work and published by the Institute of Medicine, "The Health of Complex Human Populations.
In addition to his role in Faith and Health Ministries, Gunderson holds faculty appointments at the Wake Forest School of Divinity and in Public Health Sciences.
A Wake Forest University alumnus, Gunderson holds a master of divinity from Emory University in Atlanta, a doctor of ministry from the Interdenominational Theological Center in Atlanta, and an honorary doctor of divinity from the Chicago Theological Seminary.